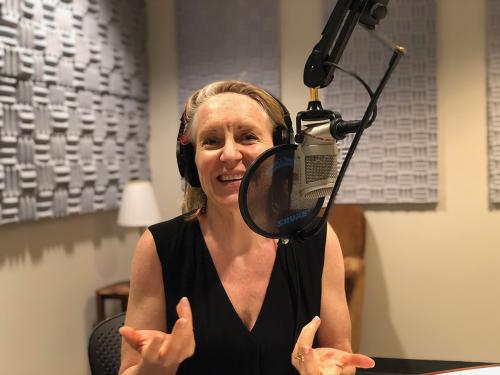 The workshop "Health and Humanitarian Action: Bridging Gaps between Research and Practice" took place on April 13, 2018. The event brought together distinguished practitioners and academics working on health in humanitarian crises to discuss challenges and opportunities to foster effective relationships. The workshop constituted the start of an important conversation that will be carried into additional forums at Yale University in 2018-19. (Read Workshop Synthesis Report)
The first podcast, led by Professor Kaveh Khoshnood, is a conversation with the workshop participants Paul Spiegel, Director of Center for Humanitarian Health at John Hopkins University, Ahmed Tarakji, President of Syrian American Medical Society, and Jeannie Annan, Director of Research and Evaluation – International Rescue Committee. It focuses on the use of evidence in humanitarian response and strategies to optimize collaborations between scholars and practitioners in humanitarian settings. Kaveh Khoshnood is an Associate Professor and Director of Undergraduate Studies at the Yale School of Public Health and core faculty member of the Yale Council on Middle East Studies. He is co-founder of the Violence and Health Study Group and a Steering Committee member of the Program on Conflict, Resilience, and Health at the MacMillan Center.
The second podcast is an interview with Professor Catherine Panter-Brick. It summarizes key themes and messages from the workshop and ideas for future initiatives toward bridging gaps between humanitarian research and practice. Catherine Panter-Brick is a professor of anthropology, health, and global affairs. Her research consists of critical analyses of health and wellbeing across key stages of human development, with an emphasis on health interventions and global mental health. She directs the Program on Conflict, Resilience, and Health at the MacMillan Center for International and Area Studies, and the Anthropology Program on Stress and Family Resilience.