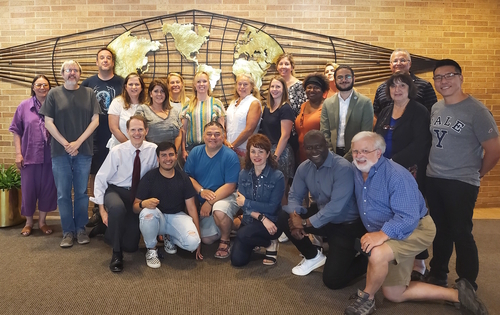 The Council on Middle East Studies at the MacMillan Center welcomed participants to its three-day Summer Institute for Teachers (SIT), "Refugees in Recent History," from June 26-28. The diverse group of educators came from far and wide including Massachusetts, New Jersey, Arkansas, Indiana, Texas, Arizona, Toronto, Canada, and Hawaii, in addition to local Connecticut teachers. They teach K-12 and at community colleges on subject matters ranging from literature and modern languages to social studies and history, and many have refugees in their classrooms.
The institute, funded by a USDE Title VI National Resource Center Grant, explored "refugee" as defined by international law. Presenters provided historical perspective on significant movements of people in time and space from the end of WWI to the present, discussed contemporary situations in the Middle East forcing people to become refugees, and also looked at US and international policies positioning which determines where refugees can seek asylum and how they are able to integrate into society once they have been accepted. Sessions focused on refugee protection in international law, the creation of the Middle East refugee through violence, ethnic cleansing, and mass migration, Greek-Turkish population exchange, migration to Israel after the Holocaust, Palestinian refugees, Afghan displacement, Turkish refugees and migrants in Europe, displacement in the post-'Caliphate' world, and finally from the perspective of a presenter who had to flee his own country as a child, how to re-think "refugee" in the collective imagination.
CMES offers the SIT as part of its commitment to outreach and community engagement. Sessions are intentionally interactive in order to give participants not only academic background on the subject matter but ideas and resources to translate what they learned at SIT into lesson plans. As one attendee noted, "There are many things that I will be bringing back into my unit planning this year based on what I learned. The amount of content covered (and the diversity of the content) creates a comfort zone for me to include more information on the Middle East when we cover our Movement unit." Another commented, "In addition to teaching, I do a lot of professional development work at the state level for the community colleges in Connecticut, so it is a pleasure for me to see teachers teach. To that end, I was wowed by Dr. Meredith Loken.  And her session ("What Happens Now?: Displacement and Return in the Post-'Caliphate' World") was another example of a talk that brought in so many issues—history, ethics, academic research, international law." One of the presenters, Ahmed Badr, a UN Young Leader from the Office of the Secretary General's Envoy on Youth, provided poetry templates and other writing activities intended to encourage creative expression, to empower young people, and to reimagine "refugee." One person commented that she would like to use the resources provided by Badr as an ice breaker at the start of the school year.
The teachers also had an opportunity to learn about available Yale resources. Stephen Naron, Director of Yale's Fortunoff Video Archive for Holocaust Testimonies, showed how oral history can help document migration to the Middle East after WWII.  More than one participant mentioned how his session gave them ideas of how to incorporate these kinds of testimonies into their classroom.
In addition to leaving with an extensive bibliography and pedagogical resources, the SIT created a community of teachers from across the U.S. that could be used as another resource. The intimate setting allowed participants to discuss material and to share teaching best practices not only during the sessions but over shared Middle Eastern meals that were catered by immigrants and refugees from Turkey, Iran, and Syria. At the conclusion of the institute one attendee wrote, "I must tell you that the seminar was incredible both in content and colleague interaction."