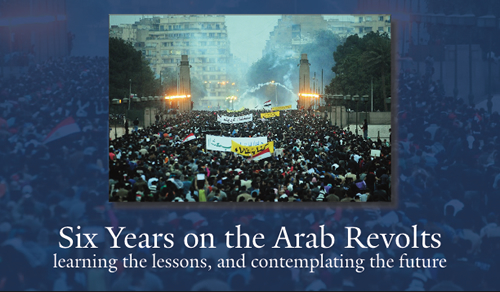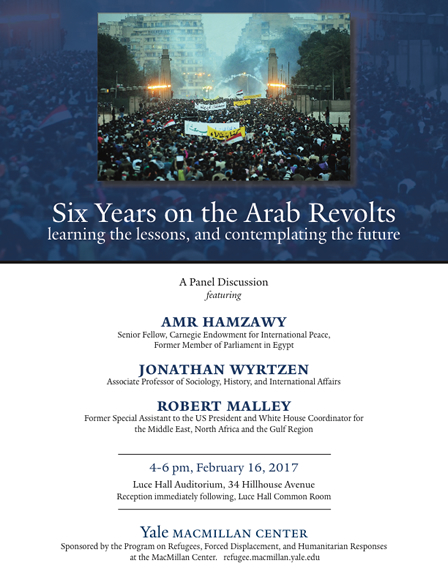 Six Years on the Arab Revolts: 
learning the lessons, and contemplating the future.
A panel discussion featuring: Amr Hamzawy, Senior Fellow, Carnegie Endowment for International Peace, Former Member of Parliament in Egypt; Jonathan Wyrtzen, Associate Professor of Sociology, History, and International Affairs; and Robert Malley, Former Special Assistant to the US President and White House Coordinator for the Middle East, North Africa and the Gulf Region
4-6 pm, February 16, 2017
Luce Hall Auditorium
Reception to follow
Luce Hall Common Room
Panel description:
The Arab region looks so different today, compared to how it looked on the eve of the downfall of the Ben-Ali regime in Tunisia; the event that set the spark of revolts across the Arab region. Six years on the 2011 revolts, the region seems in turmoil rather than prosperity.
The panel will trace the main changes that the Arab region witnessed as a result of the Arab revolts, and discusses what remains from the movements of Arab revolts after six years have passed, and what lessons are to be drawn in that regard. The panel will also discuss the future of the Arab region, and whether it is heading towards stability or disorder, with a focus on the situation in Egypt and Syria.
Sponsored by the Program on Refugees, Forced Displacement, and Humanitarian Responses at the MacMillan Center. For more information, email refugees@yale.edu.